After seeing PetiteAsianGirl's post trying on the military sweater jacket and also about the LOFT coat special, I decided to go Ann Taylor Loft during lunch break the next day. This is also my first post, so bear with me while I find some sort of consistency (and confidence) in my method of posting and of taking pictures.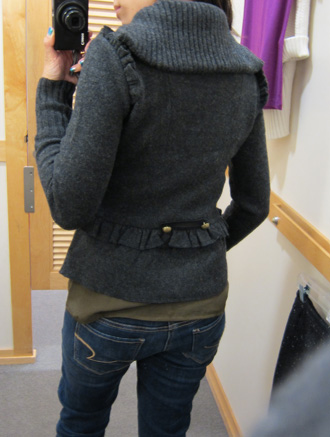 1. Military Sweater Jacket, apoplexy $128, XSP
I'm 10lbs heavier than PAG, and slightly taller, so I decided to try out an XS in the store. San Diego was a balmy 96 degrees this weekend (35-36 Celsius), so trying on this jacket made me immediately HOT as it was quite snug. Please ignore the (terribly not matching) LOFT top I was wearing underneath. I thought it was quite fitted, and it was softer than I had expected. It was lighter than the color they have on the web site, but I loved it enough that I went home and bought it online (with the additional 25% off)
I couldn't find any of the three coats that were to be $75 in the store (I do think that given the crazy heat wave that day, coats probably would have been the last thing people had in mind!) Since I was there, I decided to try on a few items from the sale section. Here are a few of those items:
2. Knit Empire Dress, $49.99, XSP/XXSP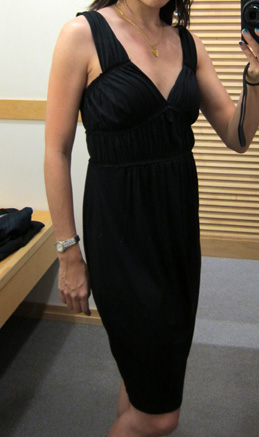 I tried both colors in this style – the sweet plum, and the black, in XXS and XS, and both did nothing for my shape (not that I have many curves). It emphasized all the wrong areas – it made my torso look odd. I thought the bunching would be flattering, but it made me look kind of odd. Plus, it was way too low for my liking, and I don't have much to show either 🙂
3.Petite Habutai Flutter Sleeve Tee, $9.99, XXSP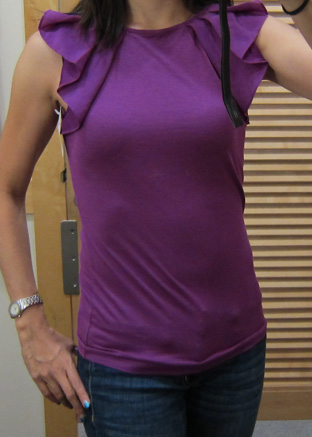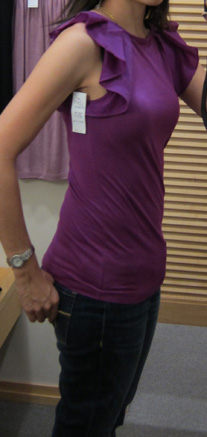 I'm almost embarrassed to post these photos, but it's clear one can see my belly in these photos. Oddly enough, I wore it the other day, and it didn't look like my belly was jutting out. The top was marked down to $9.99, and they were having an additional 30% markdown which, factoring tax, came to about $7.57. Had it been any more expensive, I probably would have left the shirt on the rack. I loved the unique flutter sleeves (though, probably isn't the best to wear given my broad shoulders), and the color.
I tried on a few other items (but did not take pictures) but the only thing I decided to walk out with was the flutter sleeves top. I ordered a few other items online, and will may be be posting them here – need to find a good place to take pictures!
Still have to figure out how to customize this blog.. being lazy doesn't help!
LOFT is having a sale (when are they not?) where if you use the code "SAVEMORE", you will save the following:
– $20 off $75
– $30 off $100
– $50 off $150