Note: I'm cross posting this with my personal blog, since I think it applies there as well, and it keeps me in check.
Anyone who really knows me, knows that I'm a bit of a schizophrenic when it comes to spending and consumerism. I even have a blog with a friend (that has been slightly molding) about living simpler, greener, and basically simplifying ones' life. In the past year, I've tossed a great deal many things out in light of all the things I accumulated in finding a more stylish me (hence, the schizophrenic part), but I find that I still own many items that I just don't use or haven't worn in a long time. I came across this one blog that documented each item they threw out a day, and while I won't be documenting everyday, I may do an accumulation of the things I plan to donate/toss/sell that week (minus dirty old things or who knows, a second stapler I find haha). I don't know if people will find this boring as this doesn't directly relate to clothing or beauty, but I see it as minimizing my wardrobe and items that are investments instead of toss-a-ways. PetiteAsianGirl's latest post on her investment in a few quality Chanel purses makes me feel as though this post might not be too out of topic 😉 Plus… I need to place myself on a strict discipline shopping budget (current ban), and this will help keep me in check!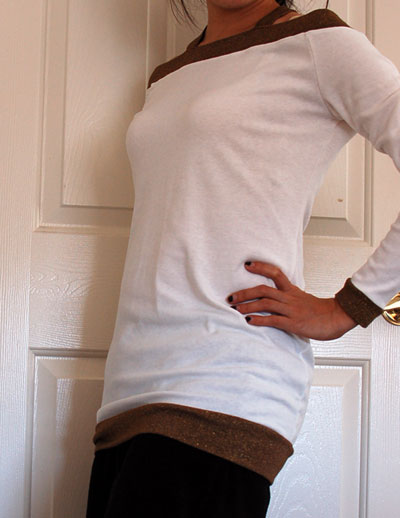 Item #1: White T-shirt Tank, aka listed as 'Sexy women's T-shirt dress #JG162white'
Reason to Toss/Donate/Sell: I decided to brave buying from these Hong Kong sellers from ebay selling the cutest Asian clothes online April last year. I thought the items would be more petite friendly (they are) but the sizing varied so much from item to item I would definitely not recommend it as it's just a hassle to have to make returns back to Hong Kong. This one was a definite miss for me. (The other items I returned – could barely fit and it was just odd!) Too big (as you can see, not very fitted). Too see through, and all in all, not very practical. I never wore it once, and I don't see myself ever finding a reason to wear it. (I'm almost embarrassed to show these pictures!)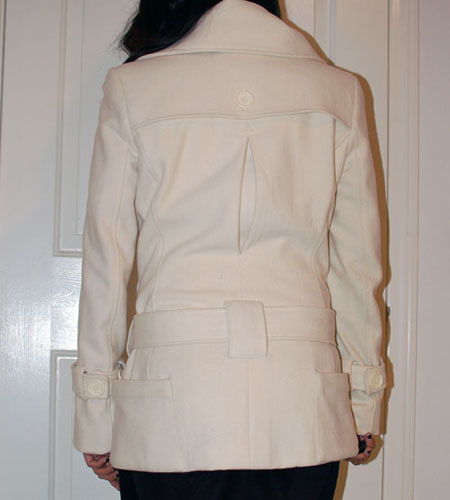 Item #2: Victoria Secret's Drop-Waist Belted Wool Coat, XS
Reason to Toss/Donate/Sell: Currently just $68, I love the look of this jacket. I bought it several years ago, but despite it being XS (which I can usually fit, especially if it's a jacket), it's too big on me. I think that's true of almost all of Victoria Secret's clothing – way too big. If it weren't for the belt, it would look as though I was wearing a big poncho. Because of how much extra "belt pullage" I have to do, there is a lot more extra fabric that comes up. Also, even though white is a beautiful color (it's more like ivory), it's easy to get all sorts of stains and lint and fur on it. The coat is very heavy, and I love all the details (I like the button in the center on the back, and the button cuff on the sleeves – hence why I kept it even though it's clearly too large), but it's just not very practical in Southern California. I haven't decided whether or not to sell or donate this one yet, as it needs to be dry cleaned if I end up selling it.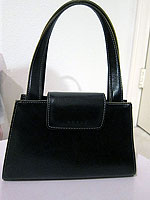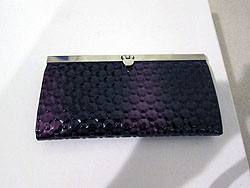 Other Items:
#4. I bought this Guess hand purse when I was in college and loved it back then. I'm still on the fence on keeping it, but I haven't really used it much in years. I carry so much with me now a days it doesn't make any sense for me to have such a rigid small purse. Not very versatile either, even though it is really well made. It'll probably find itself on ebay.
#5. Charlotte Purse wallet. I love the idea of a small flat wallet, but I carry a lot of coins with me, as well as cards, and of course, it being Charlotte Russe, isn't of the best quality, so the wallet will start bulging with too many items in it, and the pockets too rigid. I did use it pretty good for most of the year, but I've put this on the donate block.
#6. Naturalizer Prissy Sandals. As a bridesmaid for my brother's wedding, I had to wear these sandals. I was hopeful they would be comfortable after all the positive reviews, but after testing them out at work, and then wearing them at the wedding, the straps began to dig into my foot. The same was said by the other bridesmaids. So, after wearing these a couple of times, I think I will try to find another home for these shoes.
I read a great tip once of how to figure out (with not much thinking or emotional thinking) which clothes to toss and clean out of the closet (of which I have yet to do.) Every time you have washed and worn an item, you put the hanger facing the opposite direction (for example, inwards) than those items sitting in the closet unworn/unused for a long time. After six months to a year (or whatever time period you think is long enough), go through those hangers that are facing outwards, and simply donate those items. Of course that would exclude special occasion dresses. I thought that was an excellent idea. People have even used separate closets as an idea, but I don't have that many closets… 🙂
Any items you will be ridding of? What metric do you use to sift through to clear your closet?