I'm just now getting to blog about the numerous trips that I made to H&M, Ann Taylor and Target. In some of these occasions I forgot to bring my camera, so this blog post is full of grainy photos by my phone, so please bear with me 🙂
H&M
Several weeks ago I popped into H&M and only had time to try on a few items. I decided to grab the lacy H&M top and this H&M dress that looked so pretty on the hanger:


I think this would be the matching top to the popular lace skirt that so many other petites have bought from H&M. I never took a picture of the tag, but I'm wearing a size 2, and I think it's too fitting for me, therefore not being all that flattering.

This chiffon dress however… looked so pretty on the hanger. I thought I would try a size 4, which usually varies in fit for me with H&M, and I was surprised to see how big it was on me. I definitely needed a size 2, but by then I was in a rush and the line for the the changing room was very long. The size 4 was shapeless and sad looking. Plus, though the light pink looked so pretty, I blended in with the dress. Plus, it was slightly see through… I guess if I look at the model wearing it, it's supposed to be shapeless.
Ann Taylor
I dropped by Ann Taylor since I was returning a few items to a few stores at the strip mall there, and decided to see if there were any sales to be had. Unfortunately, there were barely ANY petite items on sale, let alone XSP or XXSP!! So, while I was there I decided to take a peek at an item I couldn't keep my eyes off of – the Sleeveless Drape Top, $48. I'm very partial to sheeny shiny foldy clothes, and it really glowed on the model, so I was eager to try it out in the store.
Sometimes, it really helps taking pictures of what you wear, because even though I think the top is gorgeous, I don't think it works as well for me. I tried this top with XSP, and it's possible XXSP might look better, given there would be less folds and sit better. At $48, it's still too expensive. I'd pick this shirt on sale, and in XXSP. This is the dusty teal color, and I also think I would look better in the Eclipse color, as it's more icy and bold.
Target
Then recently, when I went to return a pair of shoes, I decided to randomly try on a few of the items in Target. I was curious, because they have their new sizing and fits for their jeans on display that I was curious enough to pick up a few pairs in a couple different sizes to try them out. I was excited they actually added a "short" length to their jeans, and eagerly tried them on. Needless to say, major fail on each. I shouldn't really blog about them … but.. I guess I will anyway, to show the horrible fit!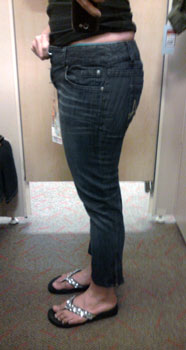 Mossimo Supply Co. Juniors Ankle Zip Jean Crop – Dark Wash size 3
These were so tight I couldn't zip the jeans up! Since I have larger thighs, I often have trouble finding the right pair of jeans. I think these would work well on someone without thunder thighs (yes, that's how I refer my thighs :P), surprisingly so.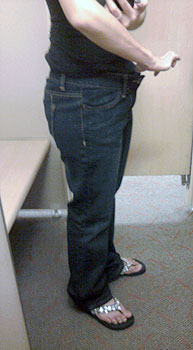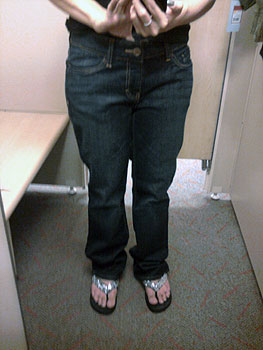 They didn't have any size 1s available in the store, but 3S of Mossimo Juniors Bootcut Jean in Fit#6 (Lower Waist & Straight), in 3S, I was swimming in as well. You can see that there is plenty of room between where my thumb is and my stomach, and in general, looked horrible.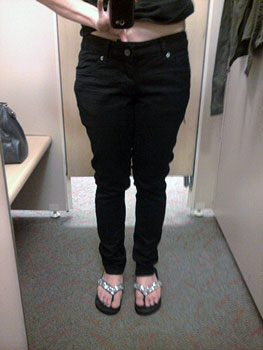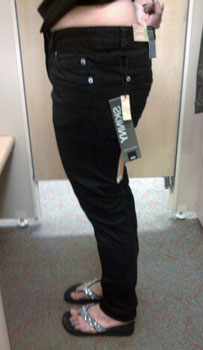 I was swimming in these Mossimo Premium Women's Black Skinny Denim, FIT #3 (Mid Waist and Straight Hip). They didn't have a size 2 short available, so I just decided to try the size 4, but yes, they didn't work on me at all. For lean petites, definitely avoid the Women's Mossimo denim – as I was swimming in the size 2 short. And for reference, I'm usually a 0p in denim and 2p in pants at the LOFT.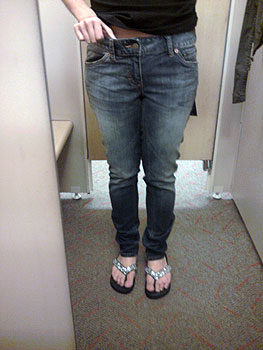 Trying on Fit#3 size 2S, of the Mossimo Women's Medium Wash Skinnies, they were still way too large. Junior jeans might work better than women's, but in general, I've shied away from Target jeans. I was just curious, and had some time to kill, and decided to try them out. Needless to say, I won't be trying on Target jeans again anytime soon!
While I was there, I took a peek at a few of the shoes on display.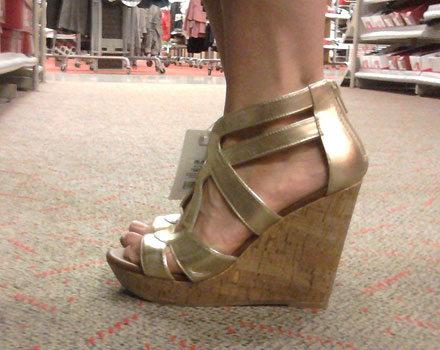 Dolce Vita for Target in Cork Wedges, $29.99, sz 6
I ordered these in gold a while back with other items, but I thought I would give these a try in the store. They come in gold, brown, and black. The sandals are slightly big in the ankle, but everything fit perfectly.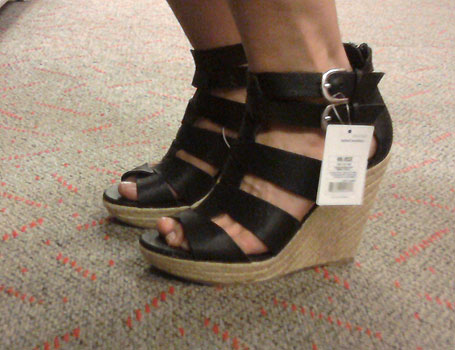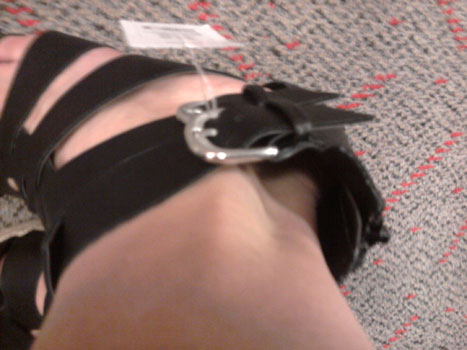 Dolce Vita for Target in Rope Wedges, sz 6
I never reviewed this item when I first received it, but since I was in the store, I thought I might as well do a proper review. The brown wedges look a lot better than the Nude, and I think the pair that I received, the faux leather was so stiff, I couldn't even stick my foot all the way through. The biggest problem with this sandal wasn't so much the way it looks (it looks great!), but it's too big in the ankle area. When I lifted my foot off the ground, there was so much room between the ankles and the shoe that it separated from the sole of my foot. The material was a bit suffocating too. You can see in the second picture the amount of room (though blurry)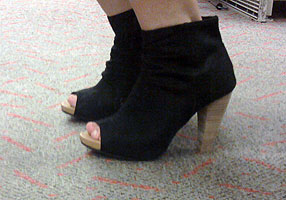 Mossimo Pavla Peep-Toe Booties, $29.99, sz 6
I am not normally attracted to these kind of booties, where the only part showing from the foot is the toes, but I thought, why not. It was made of suede, and because of that material, was extremely comfortable and well fitted and easy to walk around in. Plus, the bottoms are skid-free, which is always a good thing. Plus, with the bottoms being platform, there seems to be good enough padding after long periods of walking (my observation at least). So I would recommend this bootie, and it looks like the review on Target also approves. They come also in beige/brown, or "mushroom".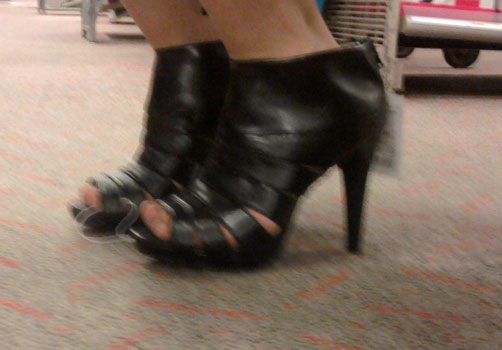 Mossimio Purvi Peep-Toe Booties, $29.99, sz 6
These were sitting near the Pavla booties, and they were more of a style bootie that I'd be interested in. They seem comfortable, but after trying those Pavlas, they're definitely not comparable, due to the faux leather material. They also come in cognac and grey.