I've gone without a very good concealer for years, having had a few that just did not satisfy me. I was sorely unimpressed with MAC's select concealer, which was too liquidy, and it came out fairly thin. It's a tube, so it was difficult to control  the amount. About a month ago, I had a Nordstrom gift card, for $50, so I decided to be adventurous and try out a few new products. I did some research on a few web sites, and decided to purchase the MAC Studio Finish Concealer SPF30 in NC30 (My face is actually a C3 in MAC Studio Fix Foundation) and Bobbi Brown corrector in Peach. Both of these have fantastic reviews (Concealer reviews, Corrector reviews).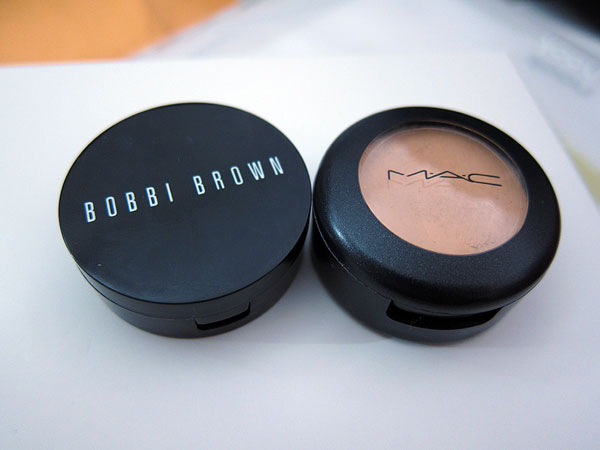 The concealers closed.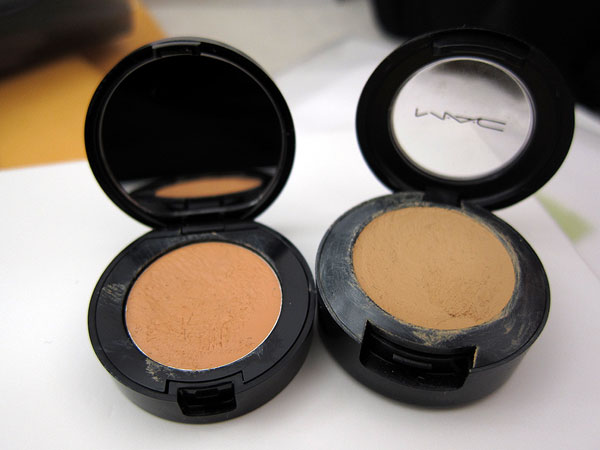 Left: Bobbi Brown Corrector, Peach (better for yellow toned skins), $20. The color looks a bit frightening in the container, but it matches my skin perfectly.
Right: MAC Studio Finish Concealer, SPF35 in NC30, $16.50.
The consistency of both are creamy, and despite the fact that I have oily skin, both of them last approximately 3/4 of the day before it starts falling off requiring a touch up. I use the MAC Studio Finish Concealer on all my blemishes and my scars and it hides it perfectly. It doesn't feel heavy when I wear it.
As for the Bobbi Brown corrector, Peach is an orang-ish color that looks like it has no way of correcting anything, but it effectively covers up my dark eye circles. I have really dark eye circles that often makes me look a panda, but it automatically "reawakens" me and makes me look more alive.
I had only used liquid concealers in the past that ended up making me look pasty and unnatural. Hence, it was refreshing to look in the mirror and see that though I had I not applied anything else but the concealer and the corrector, my skin looked so natural and dare I say it — clear? Needless to say, these two products have quickly become my holy grails. I don't wear makeup everyday, but on the days I do, I sometimes forget to put on foundation (which never happens) because my face looks fairly even already! Add a bit of blush, and I look infinitely better. I would consider my skin to be combination/T-zone, and these products were absolutely terrific. No breaking out, no yucky oily feeling. It will be interesting to see how well they stay on during the summer, but it has effectively made me a huge fan, and I would say that they are well worth the price.

Hopefully these pictures aren't too frightening (as I kind of scared myself looking at such closeups of my eye – my eyes are constantly red lately due to them being dry from my LASIK surgery), but here is a before and after photo of my eye area. You can see that it wakens up my eyes immediately with the use of concealer, and it covers very well – this is a closeup of the Bobbi Brown Corrector.
What concealers do you use? Which ones are your HGs?