My two Target orders were split into many shipments – a few won't even be available until March. Today, I received two shipments, one item from each order. I'm having a bit of trouble deciding whether or not to keep them.
Target is still having its 20% off $75 sale (immediately applied in cart). Excuse the horrible quality of my pictures and the backgrounds. I've been in deep purging/cleaning mode, pills that you shall see in a future post.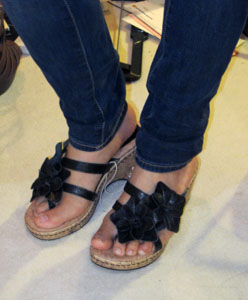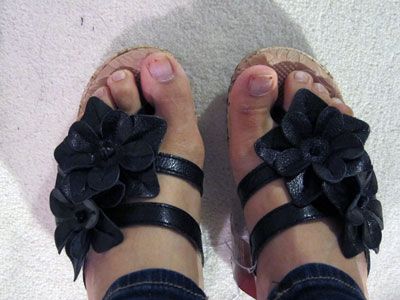 In my first order, I got these Merona Ettie Leather Wedge Sandals, sz 6 in black. They are now listed at $22. When I first spotted it, I wanted it in champagne but they didn't have my size available online. I was curious about the comfort though, and went and ordered it in black anyway.
What I like about it:
– It is so incredibly soft and comfortable. The insole is padded the way I like it, in such a way that my feet don't start sliding when it gets sweaty.
– Genuine leather upper.
What I don't like about it:
– The flowers are rather huge. I don't know if it's because I wore jeggings with them that it makes me look like I've got huge humongous feet. Maybe they'd look better with my boot cut jeans.
– It's black. I own far too many black shoes. I may have to hunt down the champagne color in store. I think the black probably contributes to the clown feet effect.
Unsure:
– I'm weary about thongs and can only wear flip flops that have a thicker cloth or made of really soft material, but it varies from shoe to shoe. My skin gets easily chaffed and is pretty sensitive to the thong while it rubs in between my big toe and second toe. Even though the thong feels comfortable now, it may not handle up to longer periods of walking. I had a similar experience with a shoe I bought at DSW; it was super comfortable in store, but I quickly discovered discomfort when walking for longer periods of time after I had bought it.
I'm really unsure of whether or not to keep these sandals. They are so incredibly comfortable and cute, though not really sleek or classy. Not that I'm sleek or classy most of the time, especially given the summer where I'm always in flip flops anyway. They'd be good for a summer day. Decisions, decisions!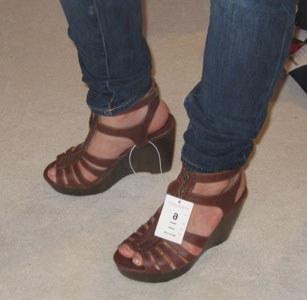 The second item I received were the Xhilaration Wedges, sz 6 in Tawny (a replica of the Dolce Vitas), priced at $24.99. (Also in black). It seems as though many people bought these shoes.
What I like about them:
– They are surprisingly light and comfy!
– The 3.75″ is a good height.
– They look really great on the feet, especially from the front.
What I don't like about them:
– The zipper of the right sandal took a while to zip up. I found that it was easier to zip up part way before I put my foot in, as the zipper just wouldn't want to go.
– They look good directly on the feet, but the whole brown tall wedge made me feel as though I was a midget on stilts (exaggerated, of course). I would definitely say skinny jeans are NOT to be worn with these – otherwise they just look too clunky – I should have taken pictures wearing something that fit both of these pairs of shoes better.
– The material isn't of the best quality, but that's what I expect out of a $24.99 shoe.
I don't own many dresses or skirts, so the one thing I could wear with these wedges would be bootcut jeans. (I'm still slightly lost about what to wear!)
So, what do you think I should do? Keep or return?
~Grace